No reason to reverse Oxford Street M&S demolition decision, says mayor | News
[ad_1]

The mayor of London will not intervene in controversial plans to demolish a 1930s Marks & Spencer store on Oxford Street.
Earlier this month, Sadiq Khan said he would review his stage two planning decision on the Pilbrow & Partners scheme after it emerged the Greater London Authority had not considered a critical report from its own climate advisor.
But a spokesperson for the mayor today announced that it would allow Westminster City Council – which approved the plans last November – to determine the application.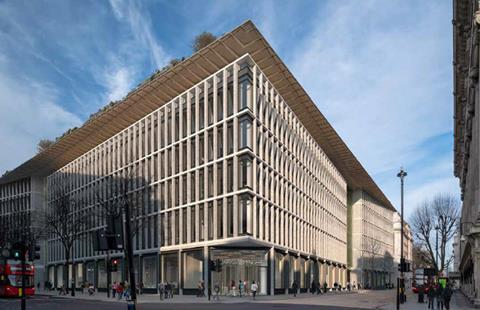 The plans for the site would see the Art Deco-style Orchard House building demolished along with two other connected structures, to be replaced with a 10-storey office-led development.
In a report commissioned by SAVE Britain's Heritage, Simon Sturgis, the GLA's carbon advisor, claimed the carbon emissions expected to result from the scheme would mean Westminster could not meet its climate change targets.
Sturgis' report said that just under 40,000 tonnes of CO2 would be released during construction, with just under 53,000 tonnes in embodied carbon cost over the course of 60 years.
A spokesperson for the mayor said that after a "thorough assessment", including the total carbon footprint of the project, it was determine that there were no grounds for intervention.
"The mayor can only intervene in council planning decisions where the proposed scheme does not conform with the London Plan," the spokesperson added.
Only Michael Gove, secretary of state for the Department of Levelling Up, Housing and Communities, can now stop the plans from going ahead.
The existing six-storey building was designed by Trehearne & Norman and built speculatively by construction firm Thomas & Edge, with the retail giant taking over the entire building in 1967.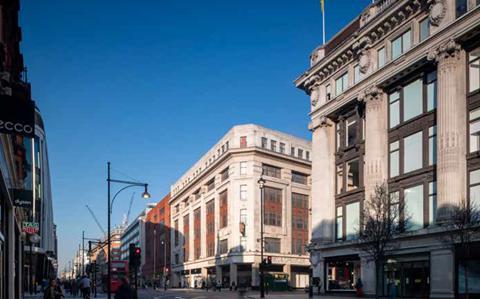 The new development will see Oxford Street linked with Granville Place to the building's north by a new arcade.
It will have a gross internal area of 60,777 m2 – nearly double the existing floorspace – although the amount of retail space will decline.
M&S will retain retail space on the ground, first and lower ground floors of the new building, which will be a mixed-use building featuring retail, office and restaurant space.
[ad_2]

Source link