Court orders man to sell his house and share proceeds with ex-lover
[ad_1]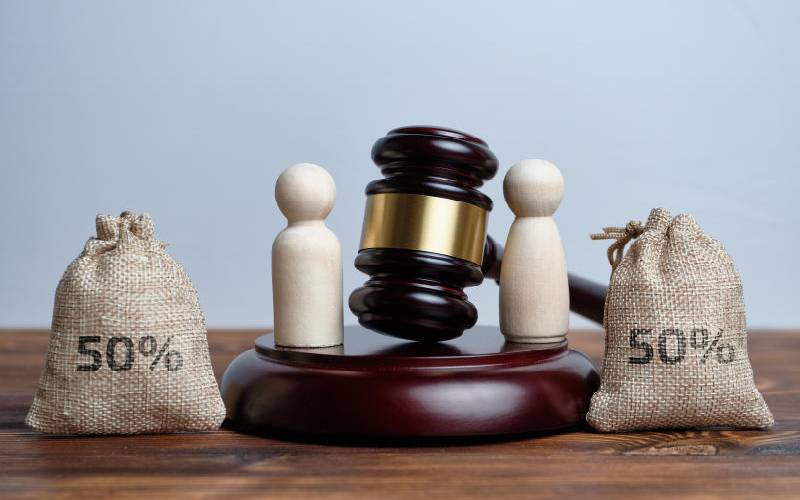 A decision by an elderly man to include the name of his former girlfriend as a trustee in his property has cost him his home.
Court of Appeal judges Agnes Murgor and Jessie Lesiit ordered Mr Babubhai Bhagwanji Madhivani to sell his home at the upmarket Grevillea Grove in Westlands within Nairobi and share the proceeds equally with his former girlfriend Ms Maria Burton.
The judges ruled that Mr Madhivani had registered Ms Burton as a joint owner of the home in exchange of love and affection and cannot run away from giving the woman her share, even if she did not contribute anything in purchasing the house.
"He intended to gift his mistress by registering her as a joint tenant, and having done so it was a mission completed. In other words, the transaction was complete and it could not be undone. We find that the woman has proved her claim for 50 per cent shares of the home," ruled the judges.
According to their documents filed in court, Mr Madhivani and Ms Burton were both divorcees, working and residing in their own houses in the United Kingdom before they met in 1999.
Soon after, a love relationship began before Mr Madhivani sold his house in the UK and moved to Ms Burton's house, where he stayed but would sometimes go to his brother's house.
After his retirement, Mr Madhivani developed some health conditions that required him to stay in warm weather. In 2007, he decided to relocate to Kenya because of the warm weather and purchased the house at Grevillea Grove in Westlands.
Because of the love between them, Mr Madhivani included his lover's name in sale and lease agreement as a co-owner and tenants in common with equal shares of 50 per cent.
Ms Burton, then still working in the UK, would occasionally visit and spend time with him in Kenya. She eventually relocated to Kenya and acquired an alien resident visa to enable her to also reside in the country.
Trouble started in 2012 when Ms Burton accused Mr Madhivani of being unfaithful after he started dating other women. Because she could not tolerate the alleged infidelity, Ms Burton returned to the UK and remarried in June 2015.
After being deserted, Mr Madhivani wrote to Ms Burton in 2016 requesting her to sign forms relinquishing her interest in the home for the reason that he had discharged her from the trusteeship position she held.
Ms Burton however declined, arguing that she was entitled to a 50 per cent share of the property and since the estimated rent for the house was Sh160,000 per month, she demanded that the man pays her Sh8.6 million as half the rent (Sh80,000 per month) for the 108 months they had separated.
Her refusal prompted Mr Madhivani to go to the High Court to revoke Ms Burton's claims in the property. He argued that he was the sole provider of the funds to purchase the home.
Mr Madhivani said registration of the premises in Ms Burton's name was purely as a trustee, and that it was never intended to confer any interest to her. He said he included her name in because he was aging and wanted her to transfer the property to his grandchildren if he died.
Ms Burton, in her defence, admitted that although she did not contribute any amount in the buying of the house, she contributed to its development by catering for domestic shopping and paying wages for their domestic workers.
She said she also bought curtains for the house, paid for their international holidays to various destinations and hosted golf tournaments at the Nairobi Royal Golf Club, where they were both members.
She claimed it was Mr Madhivani who made her resign from her job in the UK and although they never got married despite living together, he had put her name on the title "because she had served him with dedication for long".
The High Court agreed with Mr Madhivani and ruled that since Ms Burton did not contribute anything in purchasing the home, and given that they had separated, she was not entitled to any share.
Ms Burton then appealed the decision, leading to the judgment by Justices Murgor and Lesiit that she is entitled to 50 per cent share of the home.
"His inclusion of her name on the lease is reminiscent of an outright gift. There were no strings attached to the gift, and no conditions precedent. She was not required to have done anything for her name to be included as a joint tenant and thus is entitled to half share," ruled the judges.
According to the judges, an intimate relationship existed between the two and that in exchange for love and affection, the man registered the woman as a joint owner of the home, which entitles her to the shares.
They said that since the two were registered as joint owners, they were bound by the unities of possession, interest, title and time since the interest they held was as a single owner of the property.
"It is evident that by the time Mr Madhivani registered Ms Burton as a joint owner, it was understood that she was an equal joint owner. There is nothing to suggest that she would be anything less. Consequently, we are satisfied that she is entitled to her half share," ruled the judges.
Justice Sankale ole Kantai, however, agreed with the High Court that the woman did not deserve any share from the home since she did not contribute any amount towards its purchase.
Related Topics
[ad_2]

Source link